1) Welcome to the next installment of our key #oncology meeting highlights via #accredited #tweetorials from @onc_ce, your new (& only) home for the latest education from #experts on #cancer care. #Physicians #nurses #pharmacists #PAs and #NPs all earn 0.5h CE/#CME by following!
2) Now we are covering #MultipleMyeloma in the relapse/refractory setting! Our author is Dr. Aakash Desai (@ADesaiMD) from @MayoHemeOnc @MayoCancerCare in Rochester. The topics include #biomarkers & #treatment in patients with #RRMM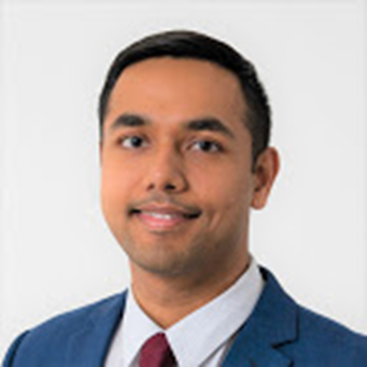 3) These #accredited summaries on the latest on #multiplemyeloma from @onc_ce & its companion website http://www.oncologytweetorials-ce.com are supported by an educational grant from Abbvie. Content is intended for #healthcare providers. Faculty disclosures are at
4) Despite therapeutic #advances, the natural history of #MM causes most patients to experience serial relapses over time, ultimately receiving most if not all available agents, hence continued efforts are imp! #RRMM @IMFmyeloma @theMMRF @myelomacrowd
🔓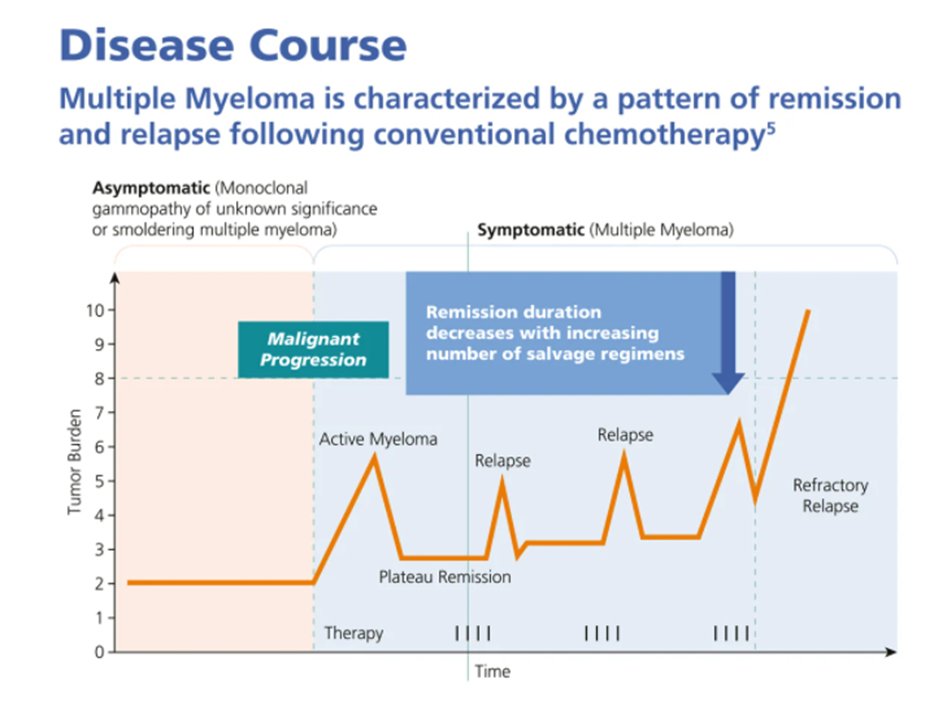 5) #InterationalMyelomaWorkingGroup has laid out response criteria in this @LancetOncol 2016 paper by @myelomaMD et al. @MayoMyeloma based on serum/urine M-protein, FLC, #BM plasma-cell % and new lesions
6) For defining #progressivedisease (PD), testing criteria are:
6.a Serum M protein absolute >0.5g/dl
6.b Urine M protein absolute >200mg/24h
6.c FLC diff absolute > 100 mg/L
6.d BM plasma cells absolute >10%
6.e Appearance of new lesions
6.f >50%⬆️circulating #plasma cells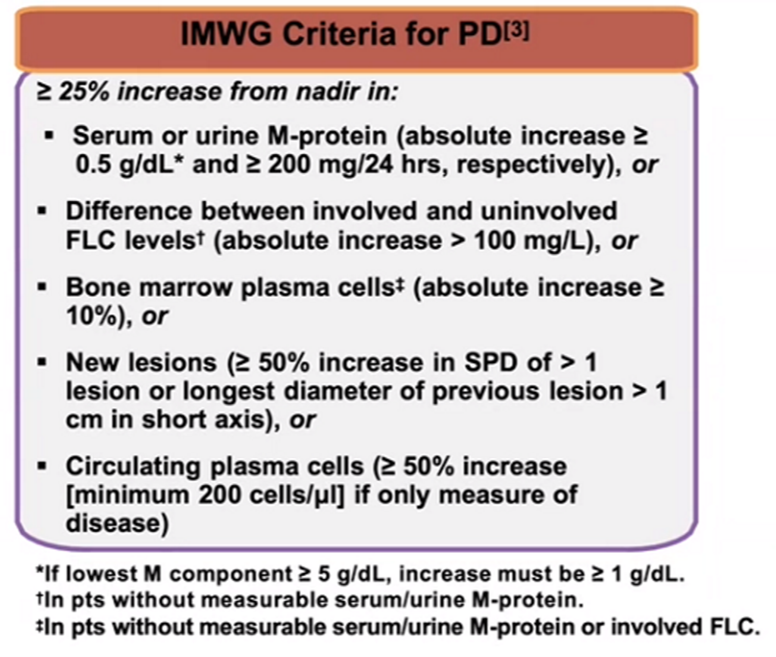 7) Increasingly minimal residual disease #MRD is an important prognostic marker as shown by Munshi et al. @DanaFarber in @JAMAOnc; with increasing interest in using #MRD for treatment decisions 🔓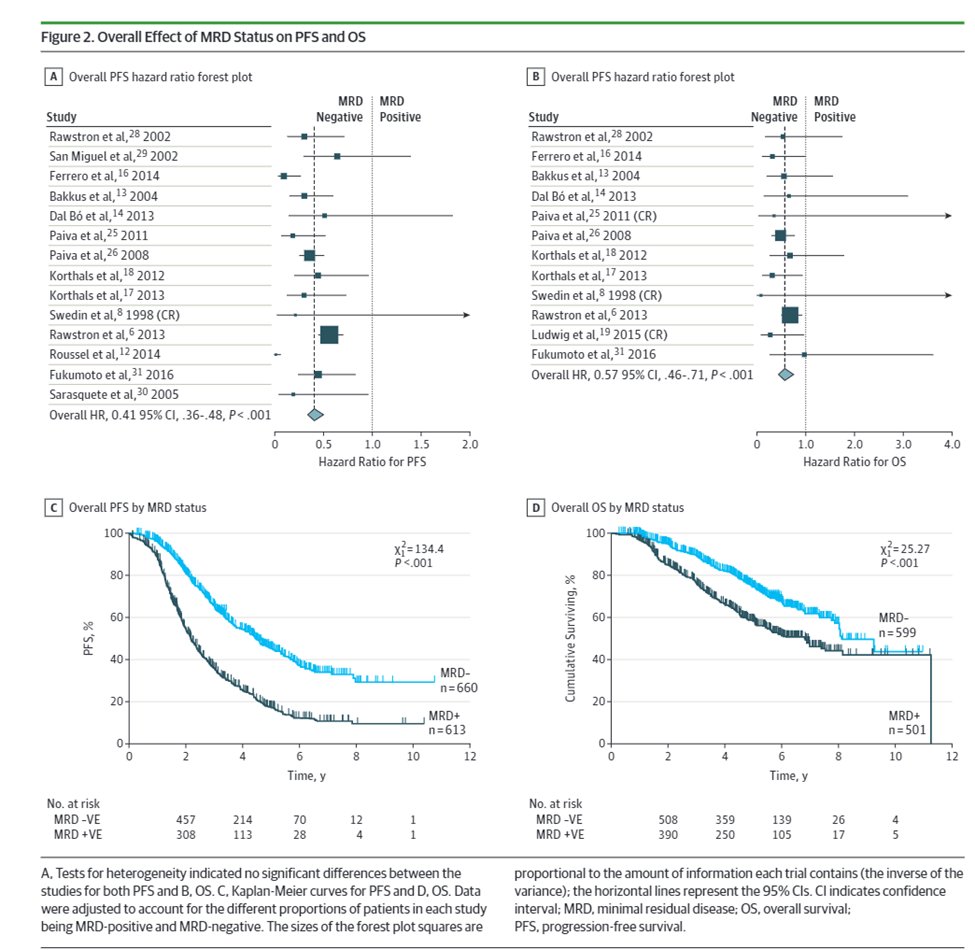 8) Various methodologies exist for BM #MRD including: ASO-qPCR, #flowcytometry based, and #NGS based, and need for standardization is increasingly called for in the field, @LancetOncol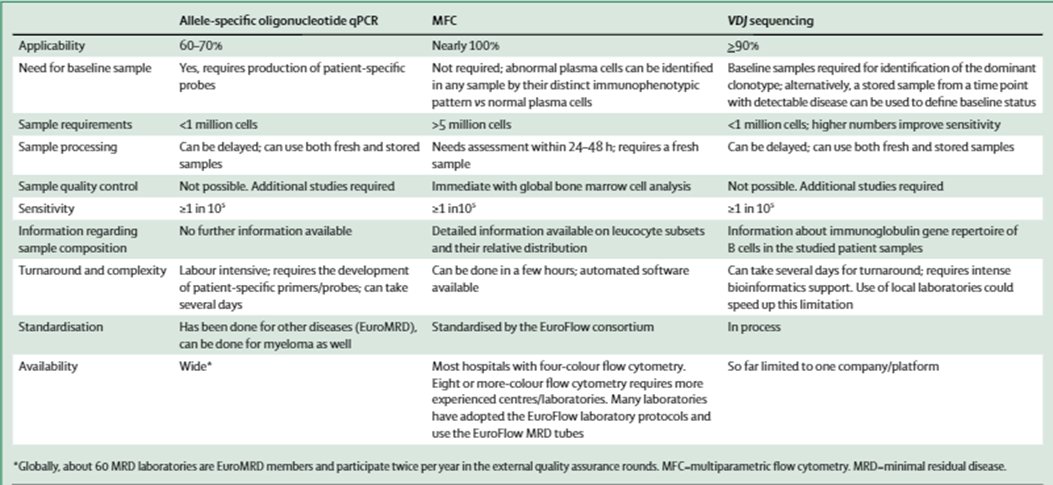 9) Response assessment occurs every cycle with serum, urine +/- BM testing & imaging (less frequently), & if #PD is identified in patients after >minor response or w/in 60d of last #Rx, we must determine whether primary refractory or relapse disease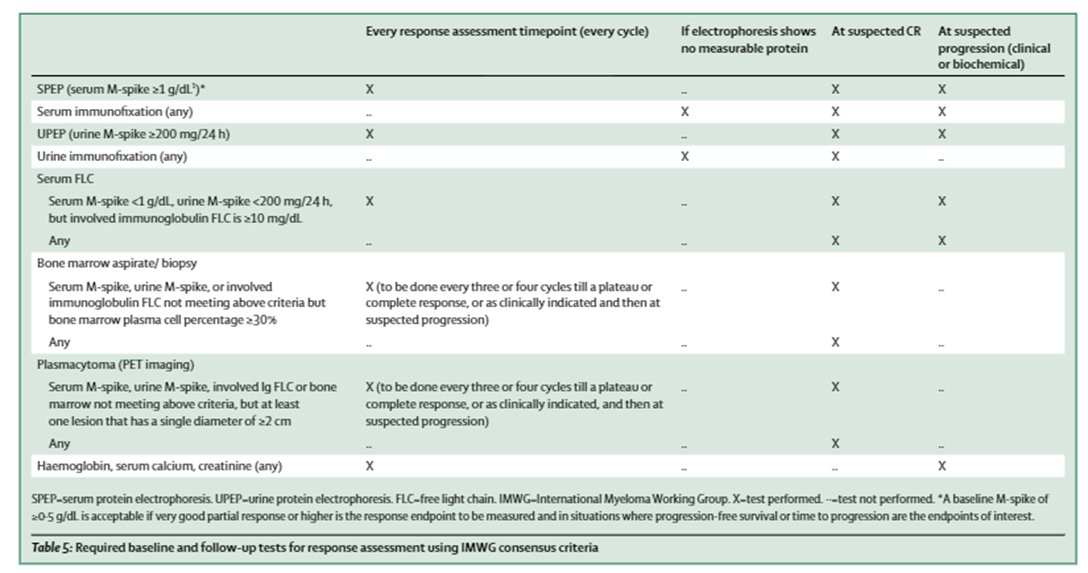 10a) Patients who never achieve at least a minor response (MR) to initial induction therapy and progress while on therapy are defined as "primary refractory", while …
10b) … relapsed myeloma is when patient who has previously been treated has evidence of #PD, and who at the time of relapse does not meet the criteria for relapsed and refractory or primary refractory myeloma @AjayNookaMD @WinshipAtEmory @Blood 🔓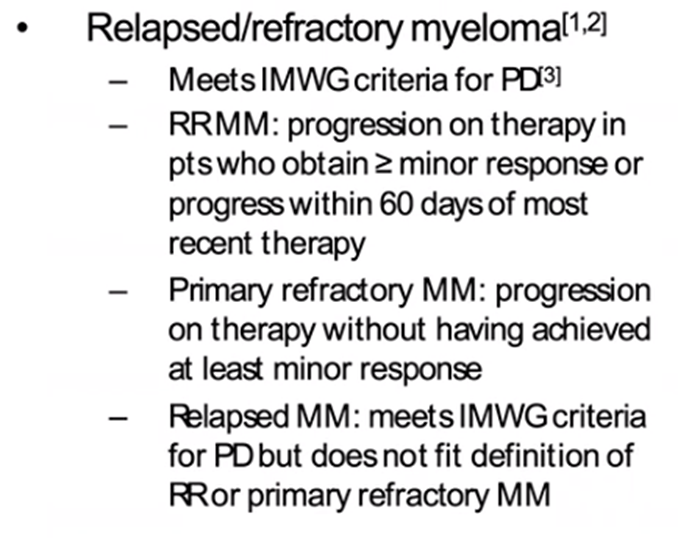 11) Now that we have established #RRMM biomarkers and criteria, let us dive into how we would #approach #RRMM with the current options which exist in treatment landscape of #mmsm today
12) Before that, let's take a poll:
Resistance to which of the following drugs forms an important decision point in treatment of #RRMM?
13) So let's explore this. With availability of different #classes of approved/upcoming agents, which can be combined in 2-drug/3-drug/4-drug regimens +/- use of #ASCT, optimal strategy represents a challenge for physicians with varying approaches acceptable according to @NCCN
14) @NCCN considers these approaches as acceptable, and the figure below emphasizes the #plethora of options aimed at achieving the #best response & #outcomes for our #patients: Gulla et al. @DanaFarber 🔓
15) For #RRMM with first relapse, imp. to determine whether #PD occurred on 1) lenalidomide? (#len) and whether 2) daratumumab was used in 1st line Rx, Moreau et al. in @LancetOncol present #IMWG recommendations on #RRMM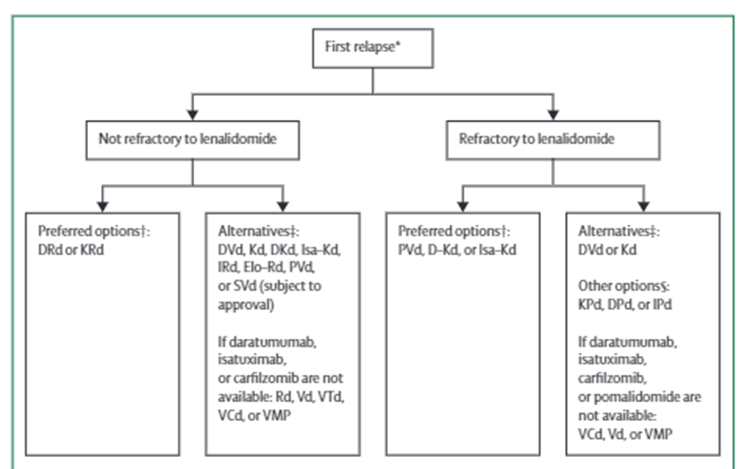 16a) For #len-sensitive disease, preferably len +dex + a 3rd agent (either a proteasome inhibitor [#carfilzomib (K) or #ixazomib (I)] or a monoclonal antibody [#elotuzumab (Elo) or #daratumumab (Dara)]) is generally preferred

16b) @akeithsterwart et al. showed in @NEJM #ASPIRE KRd > Rd for #PFS (26.3 vs 17.6 mths) 🔓https://www.nejm.org/doi/full/10.1056/NEJMoa141132, Moreau et al. showed in @NEJM # TOURMALINE-MM1 IRd > Rd for #PFS (20.6 vs 14.7 mths) 🔓https://www.nejm.org/doi/full/10.1056/nejmoa1516282.
16c) Also, Dimopoulos et al showed in @NEJM #POLLUX Dara-Rd > Rd for #PFS (12mths: 83.2% v 60.1%) 🔓https://www.nejm.org/doi/full/10.1056/NEJMoa141132, @SagarLonialMD et al @WinshipAtEmory showed in @NEJM #ELOQUENT-2 Elo-Rd > Rd for #PFS/ORR (12mths PFS: 68% v 57%) 🔓https://www.nejm.org/doi/full/10.1056/nejmoa150565.
17) What about #len-refractory disease? Return tomorrow and we'll discuss that as well as #venetoclax and #selienxor, salvage #ASCT, and potentially more #BCMA targeted therapies. AND you'll get your🆓CE/#CME! Don't you miss it!
@AaronGoodman33 @chadinabhan @RahulBanerjeeMD
18) Welcome back! @ADesaiMD is talking about #biomarkers in #multiplemyeloma & targeted therapies. And YOU are earning CE/#CME—#physicians #nurses #pharmacists. Follow this 🧵, you're already half-way there!
@LuisERaez1 @TeresaSAmaral @OncBrothers @HemOncFellows @amarkelkar
19a) For #len-refractory disease, reasonable approach to switch class from #IMiD to #PI-based combos (proteasome inhibitor), w/ various trials showing benefit, but few patients in these trials truly had #len-refractory disease with 1 previous line of Rx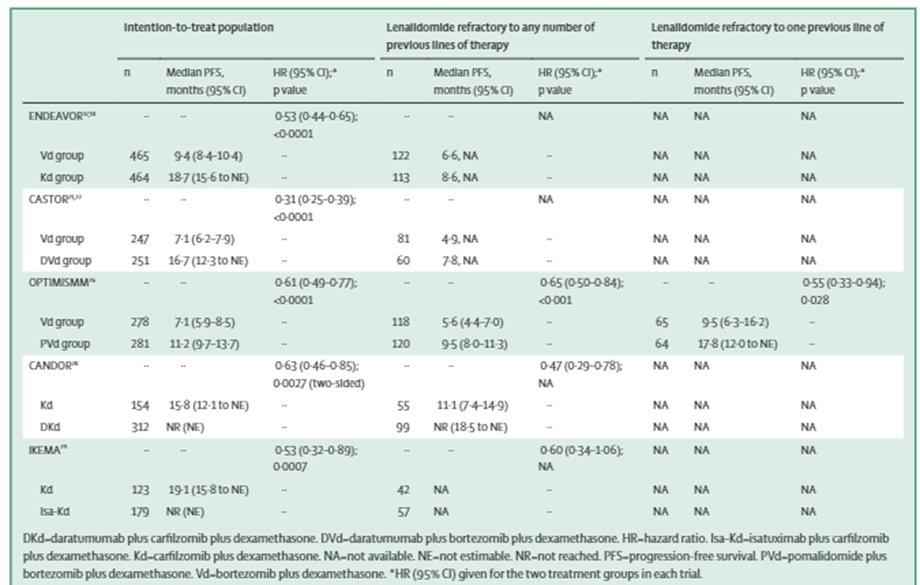 19b) #ENDEAVOR @LancetOncol showed Kd > Vd in both PFS/OS (V=bortezomib/Velcade), but for truly #len-refractory #population PFS was 8.6 v 6.6 mths with no OS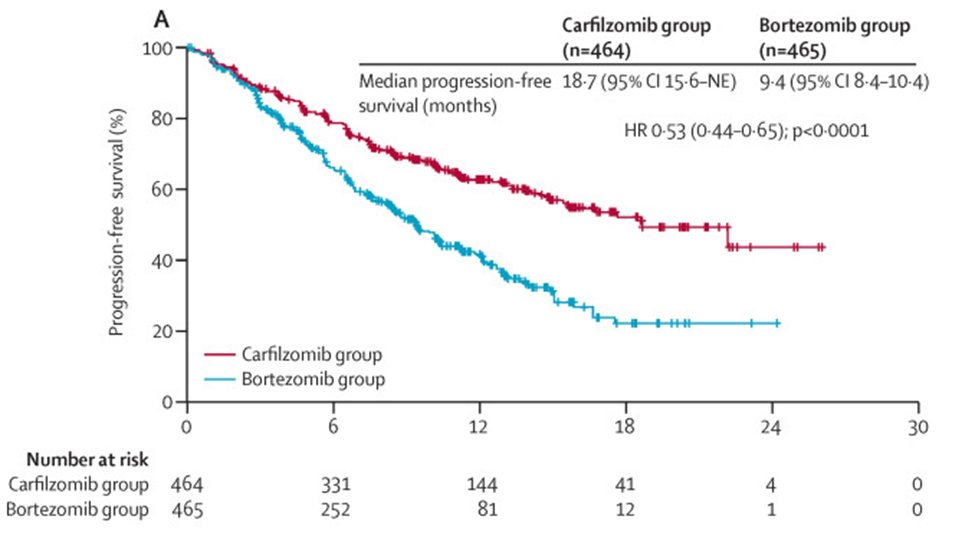 19c) #CASTOR Palumbo et al. @NEJM showed Dara-Vd > Vd in PFS with update showing 16.7 vs 7.1 mths, but no specification for 1st line #len population with some PFS benefit in #len-refractory disease
19d) #PANORAMA1 (https://www.sciencedirect.com/science/article/abs/pii/S1470204514704401) showed #panabinostat (PVd>Vd) for #PFS but high #toxicity, while #OPTIMISMM (https://www.sciencedirect.com/science/article/abs/pii/S1470204519301524) showed Pom-Vd >Vd with PFS 17.8 vs 9.5 mths in #len-refractory disease @LancetOncol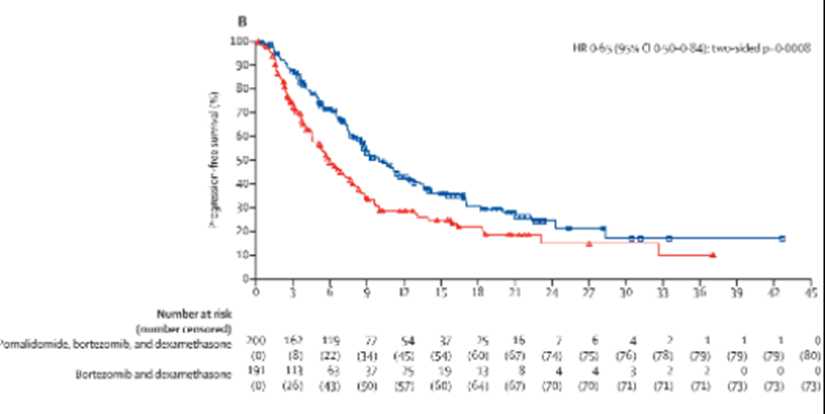 20) #CANDOR in @TheLancet (https://bit.ly/3udmSjI) showed Dara-Kd> Kd for #PFS, even in #len-refractory HR 0.47 and #IKEMA data presented @Ash #ASH20 showed Isa-Kd > Kd, also in #len-ref with HR 0.60- both presenting good options in #len-ref disease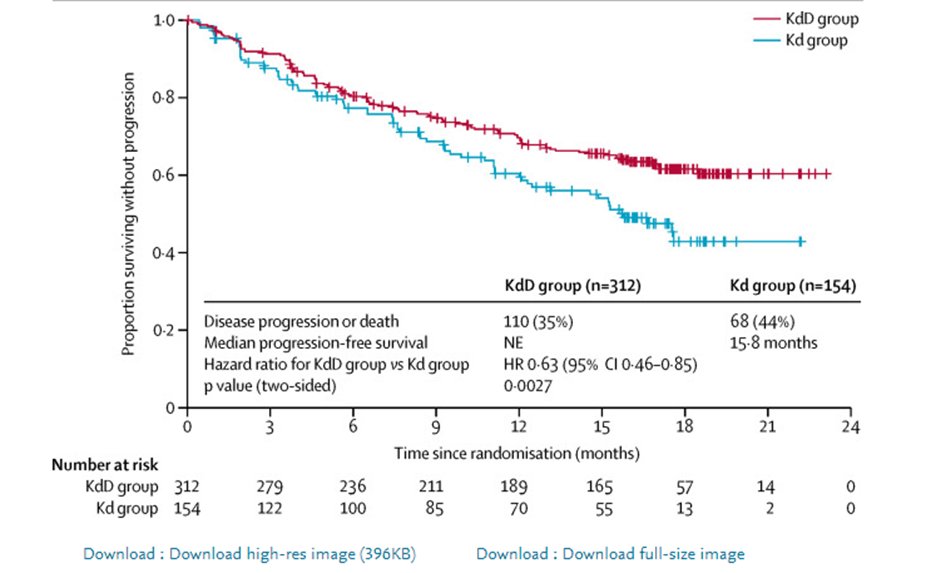 21) With #ALCYONE @TheLancet (https://www.sciencedirect.com/science/article/abs/pii/S0140673619329563) & #MAIA trials @NEJM (🔓https://www.nejm.org/doi/full/10.1056/nejmoa1817249), Dara-based regimens have become frontline, but for pts progressing on frontline Dara- we do not have data for re-tx or for switching to Isatuximab. This is currently evolving.
22) Now let's finish off with #BELLINI study, but first let's do a poll. Which drug was studied in #RRMM setting in the #BELLINI study?
a. Venetoclax
b. Selinexor
c. Belantamab Mafodotin
d. Idecabtagene vicleucel (ide-cel)
23a) Okay, so #BELLINI was a phase 3 trial evaluating #venetoclax, selective BCL2 inhibitor in Ven-Vd vs Vd and did show significant benefit . . .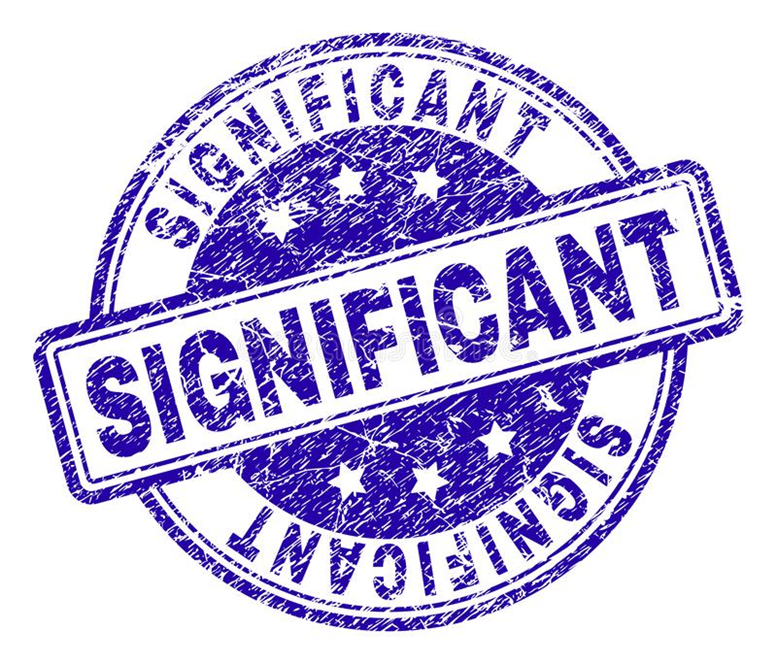 23b) . . . within the t(11;14)/BCL expressors in #PFS, and #MRD negativity while no PFS and worse OS in non-selected population
@LancetOncol @myelomaMD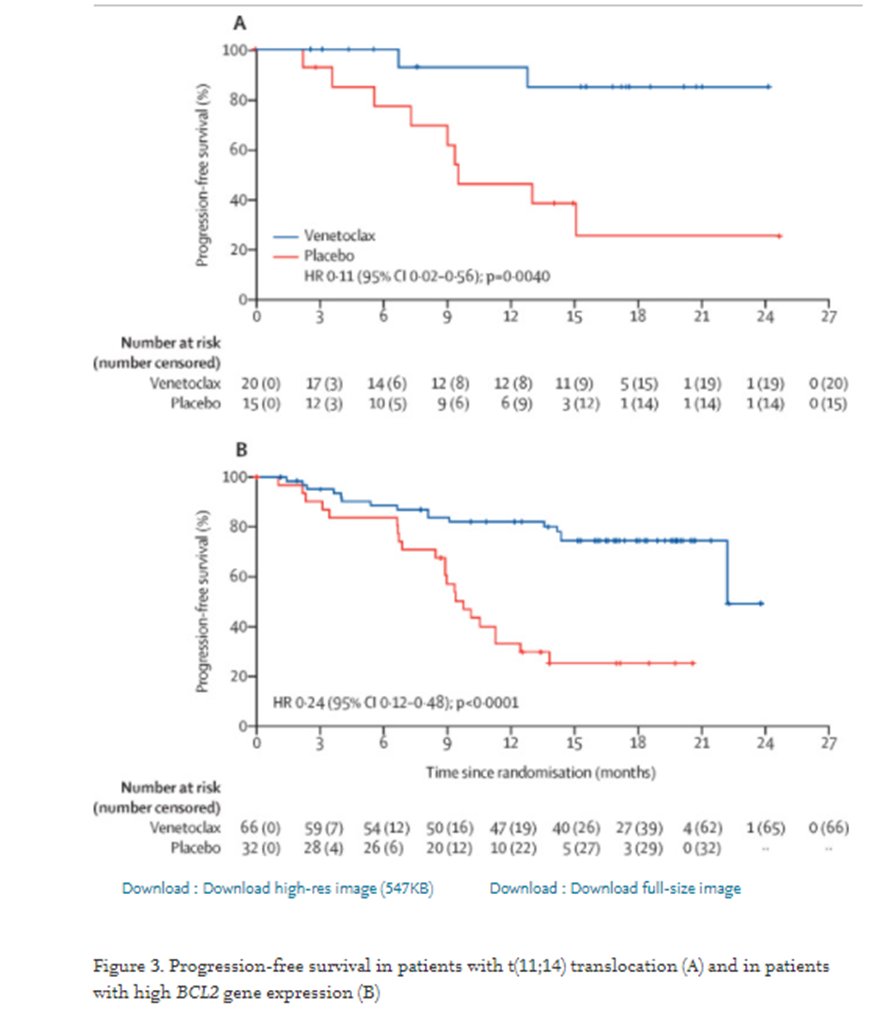 24) #BOSTON trial compared #selenixor Sel-Vd vs Vd and showed #PFS benefit (13.9 mths vs 9.4 mths) but this benefit was less apparent in patients previously exposed to a proteasome inhibitor (HR 0·78 [95% CI 0·58–1·06]) @TheLancet

25) Both #venetoclax & #selinxor have significant toxicities & need careful monitoring of side effects. You can grab even more CE/#CME from the #excellent #tweetorial by @Bethfaiman from @ClevelandClinic on monitoring and managing these, at https://oncologytweetorials-ce.com/rrmm_qol/!
26) Other options for #RRMM include salvage #ASCT, as shown by the UK Myeloma X study @TheLancetHaem where re-induction & salvage ASCT was superior in PFS/OS compared to oral cyclophosphamide consolidation [suboptimal as per modern day standards] 🔓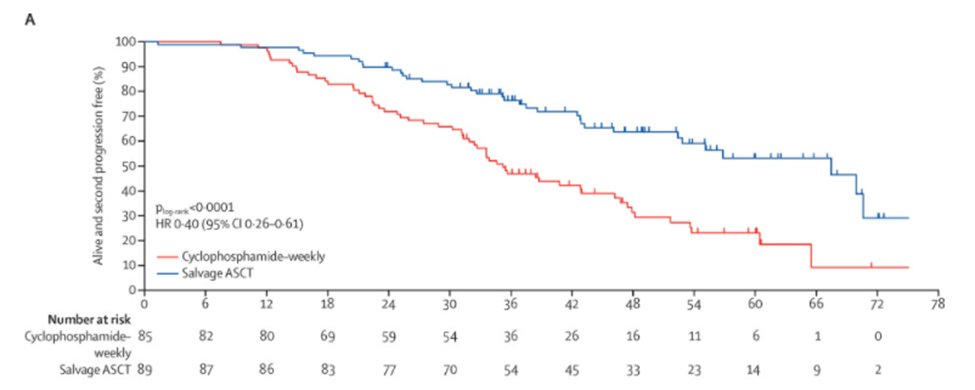 27) For pts who have received >=2 previous lines of tx, considering agents not used prior or clinical trial enrollment is ideal. Evidence here is largely from single-arm studies, some described below as per #IMWG recommendations @LancetOncol #RRMM
28) As we look forward, more #BCMA targeted therapies are in pipeline & hopefully will improve #outcomes. Great summaries of upcoming therapies by @LeukemiaJnl @ninashah33 @szusmani 🔓https://go.nature.com/3wqSh4U & @arjunlakshmanMD @MayoHemeOnc @myelomaMD 🔓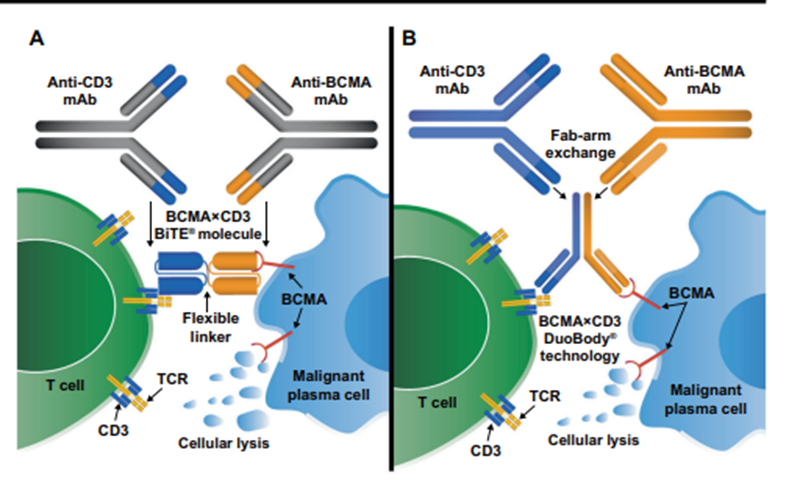 29) And if you have not already, check out this #awesome #tweetorial by @SLentzsch from @columbiacancer highlighting key data on #multiplemyeloma from @ASH_hematology 2021 (#ASH21) of all the exciting new trials! And oh BTW get MORE CE/#CME:
30) We are surely entering an exciting era in #RRMM tx & hope to improve #outcomes for our #patients. I am @ADesaiMD & that's a wrap! Go to https://oncologytweetorials-ce.com/RRMM_biomarkers to claim your🆓CE/#CME 🇺🇸🇨🇦🇪🇺🇬🇧. FOLLOW US here on @onc_ce for more #accredited #tweetorials!
@HemOncFellows #FOAMed
Originally tweeted by @onc_ce (@onc_ce) on March 30, 2022.